Art Waskey is a speaker who truly delivers. In addition to a 45 year career in sales and marketing, Art is the author of multiple books on selling and a monthly column "The Art of Sales." Is your company or organization looking for a guest speaker who can:
Art will reach beyond professional inspiration and advice and truly impact the audience on a personal level.
Art will re-inspire your sales force to sell during these tough economic times.
Art will Deliver dynamic training for improving sales cycles using the most current sales methods.
Mr. Waskey has spent 45 years in engineering, sales, and sales management. He transitioned to his own business, Impact Speaking Dynamics, November 2018, future
his consulting, teaching, writing and speaking passions. In addition to his busy career, Art has been active in a number of ministries, and non-profit organizations including: Harvest Bible Chapel Denver, Prison Fellowship, The American Welding Society, Associated General Contractors, Adams County Workforce Development Board, & Toastmasters International.
He has taught Business Skills seminars at Colorado Christian University's School of Business, Leadership Connections of Denver, and gives speeches to various local organizations. He currently offers seminars and speeches through his own business, Impact Speaking Dynamics. He graduated from LeTourneau University with highest honors in Mechanical Engineering in 1972, and was honored as the Alumnus of the Year from that institution in 1993. In 2017, Art finished a Master of Ministry degree in Church Planting and Leadership Development; he currently teaches graduate courses for the Antioch School for BILD International.
NEW Book: The Art of Sales: A Book of Sales Stories is now available (pictured on right)! Be the first to grab this helpful tool that is both inspirational and packed with real stories to help the day to day sales and management professional.
Add Art's two other books, The Art of Sales in One Month, and The Art of Sales in a Second Month to your library. These pocket size paperbacks are designed to carry with you as you make your sales calls; they are a two-month supply of daily reminders that will motivate you for greater impact. Buy now below.
*If you would like to order in bulk, please contact Art using the form below.
Get a specific book for $18 each, or all three for $40. Shipping INCLUDED.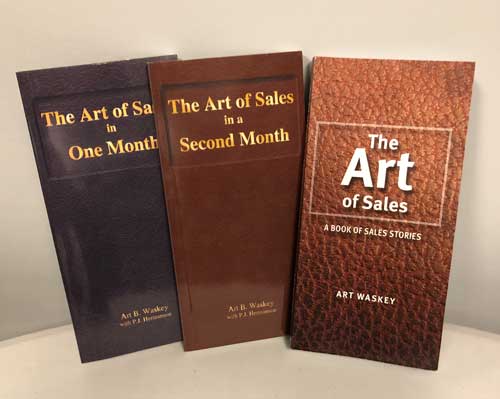 Since 2002, Art has written for  multiple periodicles, including the leading industrial gas magazine, Gasworld. Subscribe now to get all of them for a year (free for a limited time).
Sharpen your sales or interpersonal skills
Get them as soon as they are released
Learn new sales strategies monthly
Get these articles for FREE!
We have good news!  We have decided to give away these articles so you can print them and use them for your own leadership and management training ($109 value per year).  You have full permission to print them and distribute to your sales force.  These articles are our gift to you.
What some past clients have said about Art Waskey…
"You did a masterful job at the conference and also made some new friends! Thank you once again for what you do and for who you are. The name of your company is appropriate! Impact! You, my friend, are a world changer. So glad we did this. See you soon."
Chairman, Western Ice Association (WIA)
"You were well prepared to answer any questions our audience offered because you work in our industry. The topics were a good review for dealing with our customers, especially how ethics contributes more to sales success than strategy."
CeeKay Supply, St. Louis, MO
"We just concluded the GAWDA Atlantic City Regional Meeting. The presentation by Art Waskey on Managing Millennials in Sales was excellent, and it was well received by members."
GAWDA Atlantic City Regional Chair
CONTACT ART WASKEY TODAY
Do you have a question, speaking engagement, or a question about an order? Talk to Art by filling out the form below.